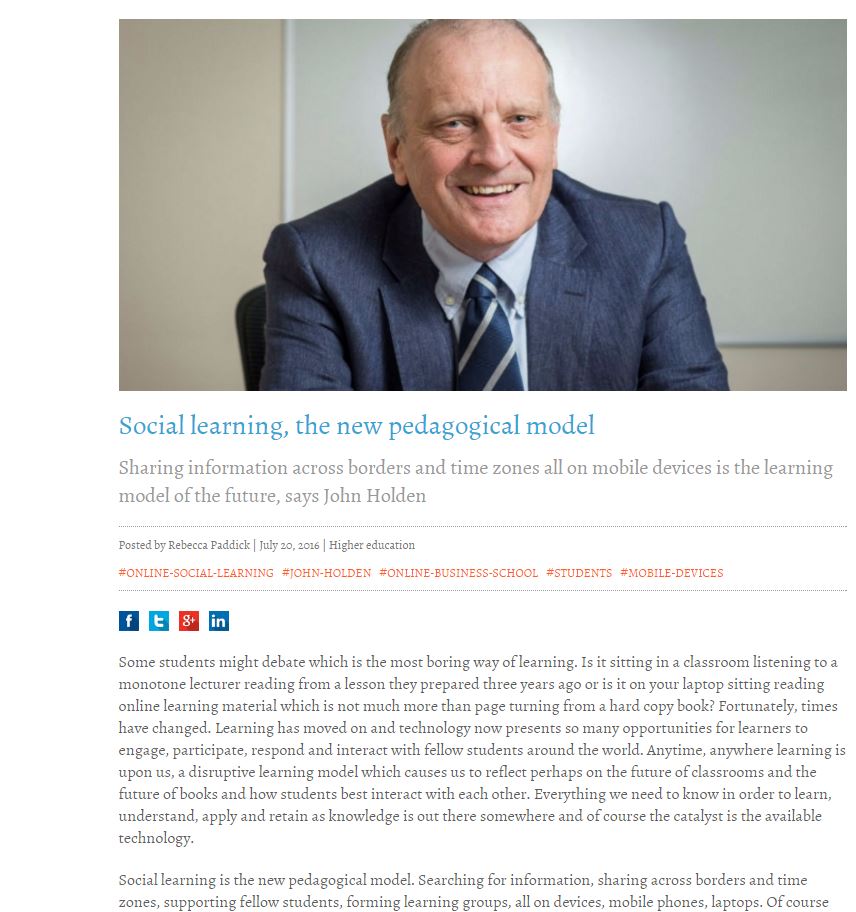 ---
Online Business School have been featured on Education Technology! To view the article full article please Click Here.
Online learning has countless advantages, from its convenience and flexibility to making you a more self-disciplined and independent individual. However, there are also some surprising benefits that online learning can offer which are often overlooked.
Interactive. Although there is a great misconception about online learning being extremely isolating, it can in fact be more interactive than a conventional education. Students often spend more time interacting with their teachers online than they would have the opportunity to do in a classroom setting. They can also participate in and contribute to online discussions, allowing them to converse with other students and share concepts and ideas with one another. It encourages them to seek out other people and interact in a way that they would not do in the forced communication that classrooms require. Social media can also aid learning, for example teachers can create Facebook groups where they post relevant material or discussion topics.
Global networking. Online learning can introduce students to people across the globe, allowing them to be able to broaden their understanding of the global job market and comprehend and gain new perspectives. They can connect with instructors from all over the world which can later help them when working abroad or even communicating with clients overseas. Being able to gain this valuable insight into the industry can help to instil confidence in their own ability which is integral to success.
Learn differently. Aside from being able to learn remotely from the comfort of your own home, online learning also provides the luxury of being able to absorb information in different ways. A classroom setting often involves listening to the teacher talk at great length whilst students rush to take down indecipherable notes that will later serve no purpose. However, online learning can be done at one's own pace and allows time to understand and absorb information before moving on. Students become their own teachers which can be revolutionary and help to improve grades.
Technological skills. Online learning requires students to navigate various software programs. For example, universities often use virtual learning tools such as Blackboard. Being able to utilise and become accustomed to new software can demonstrate to future employers that an individual can quickly learn and adapt to using new technologies. It can have a positive impact in the workplace when they are required to learn to use new programs.
Be creative. The flexibility offered with online learning is common knowledge, however it also forces students to be more creative with the way that they learn and also use their time. For example, they may find that they have a spare 30 minutes on the way to work and use the commute to watch instructional videos or take an online quiz. Online learning teaches students to be more productive they find more creative ways to maximise their time. This also teaches them to be more proactive.
Online learning allows students to maximise their education and acquire all the skills that are required to go on to prosper. In fact, even the mere act of partaking in an online degree and demonstrating the dedication to see it through can be perceived as a testament of one's commitment. Online learning can offer more than a traditional education and it is therefore something that should always be considered as a viable option. It can provide students with a means of self-improving whilst gaining an education, which can go on to impact all areas of their lives.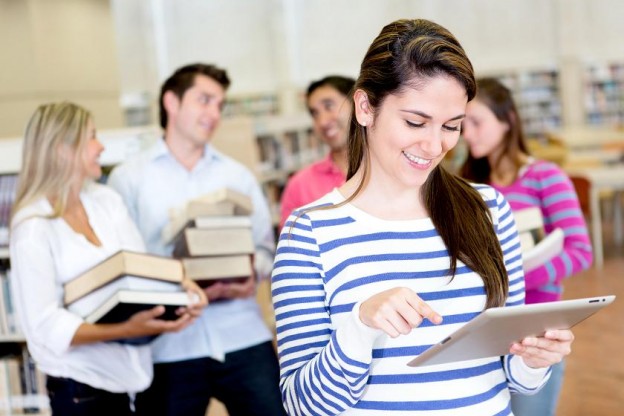 The evolution of technology has impacted every aspect of our lives from banking to the way that we communicate with each other. In fact, technology has become an integral part of sustaining society, and its infusion with education is therefore inevitable. Technology not only provides students with access to countless online resources, but also aids them in the learning process. A majority of universities and educational institutes have already started to utilise technology within their teaching methods.
Why is it important to use technology in teaching?
Students are often bombarded with information in a classroom which they must quickly attempt to process and make sense of. However, this can leave them feeling overwhelmed and confused by concepts. Technology provides students with access to countless online resources, encouraging them to carry out research and therefore become more independent. It also simplifies learning by making concepts more digestible, for example through an instructional video. It is important to recognise that there are various learning styles and traditional education may not be catering to them all.
Some people do not thrive in classroom settings and therefore having access to things like online courses can allow them to gain qualifications that they may not have been otherwise able to acquire. Students can find it difficult to remain engaged in the things that they are being taught, therefore the use of technology is crucial in holding their attention to allow them to absorb information better. Technology can help to provide them with a higher quality of education.
What are the advantages of using technology in education?
Its ease of use and accessibility impacts and benefits both the student and teacher. For example, a teacher can ask students to take an online quiz which will provide them with instant feedback, eliminating the time that the teacher would have otherwise taken to grade and look through each assignment. Technology reduces both the time and cost of teachers and also allows students to remain on top of their education by having permanent access to information, for example being able to check deadlines or emailing a teacher about queries that they may have at any time of the day.
Technology has made it possible for students to gain qualifications online and educate themselves through institutes that offer online courses. They can learn from home without having to pay to commute or move away to attend university. Working professionals have the opportunity to pursue further education without having to give up their full-time jobs. Being able to learn remotely has been revolutionary because it has made education accessible to everyone. Technology is being used to teach differently, whether that through online learning or merely showing a video in a classroom.
Teaching is now more than a lecturer in front of a blackboard and technology has been an integral part of its development. It has transformed education and the way that people learn and retain information. Therefore its role in the future of education is a fundamental part in maintaining the growth and progression of today's economy.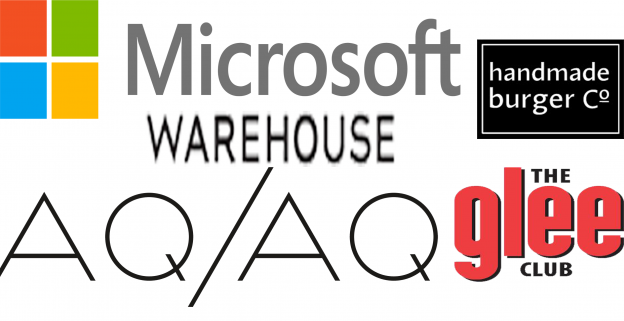 Microsoft
Discounted Microsoft package for students available. For more information Click Here 
Warehouse 
Get 10% off at Warehouse now! Click Here to find out how to get this
AQAQ  
Its essential to keep your wardrobe fresh all year round… AQAQ are offering 20% for student, Click Here for the collection
Handmade Burger Co 
NEVER go hungry from Monday – Friday Handmade Burger Co are giving 25% off the food bill!
Glee Club (Comedy Club)
Few locations but take advantage of the cheaper/discounted tickets, Click Here for shows and venues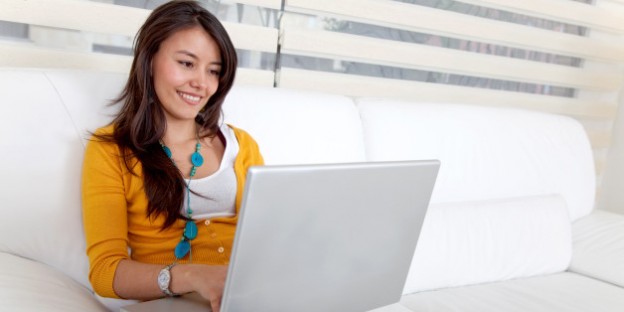 Whilst the idea of online learning used to signify isolation and sitting behind a computer screen all day, with the progression of technology, online learning has also evolved. In fact, even when it continues to grow in popularity, there are still many misconceptions about online learning.
What can online learning offer?
Online programmes make education accessible to everyone. It turns education into more than just being in a physical classroom, and for that reason has more value and provides students with more options. Whilst traditional education seems to be aimed at younger students, online learning is open to everyone and therefore is sometimes the more popular approach. For example, it is a more appealing option for a teacher that is looking to broaden their knowledge about a subject, or a working professional that is looking to gain a more in-depth insight at the industry.
Online courses bring education to you, eliminating the need to have to move away or be present in a classroom at an allotted time. This means that students can work full-time whilst participating in further study without having to give up their jobs. Online programmes offer flexibility and provide people with access to courses that may not be available in nearby universities. There are now thousands of courses online, some of which are free, making education available to those who would not otherwise have considered pursuing education.
Courses are also more engaging through the use of different online learning technologies, thereby ensuring that you are able to retain more information. They also appear to be less daunting and therefore seem more achievable. One of the advantages of online learning is that you can choose and create your own working environment which can be helpful and make you feel more relaxed and less intimidated than being in a classroom.
What is the future of online learning?
Online learning programmes will become more dominant because many universities are already incorporating virtual learning into their way of teaching. Assignments are submitted online, reading material is being posted online and this demonstrates that it is not only a popular but more effective way of retaining and teaching information. With the progression of technology, online learning will develop and eventually become a fundamental facet of education. It also reduces some of the pressure that is placed on lecturers and can be used to facilitate all methods of teaching. For example, asking students to take pre-set online quizzes which provide immediate feedback can eliminate the need for teachers to have to spend time and effort to check through and grade each one of them.
Online learning also requires students to take more ownership of their education, which inevitably helps to improve their time management skills and become self-disciplined. These are two skills which are integral to success and can be difficult to acquire in traditional education when lecturers are constantly reassuring and reminding students of deadlines or assignments. This new method of learning forces student to be self-reliant and independent and are also extremely desirable to employers.
Online learning is an innovative pathway to gaining and developing one's knowledge. It also makes the concept of education more achievable and perhaps less time-consuming than it would be when having to be present in a classroom. This not only makes education accessible but assures that more and more people are enrolling in courses and choosing to broaden their own knowledge. In a world that is reliant on technology, it only makes sense that online learning will become more dominant.
This entry was posted in
News
and tagged
online courses
,
Online Learning
,
online learning programmes
,
Online programmes
on
.
Post navigation