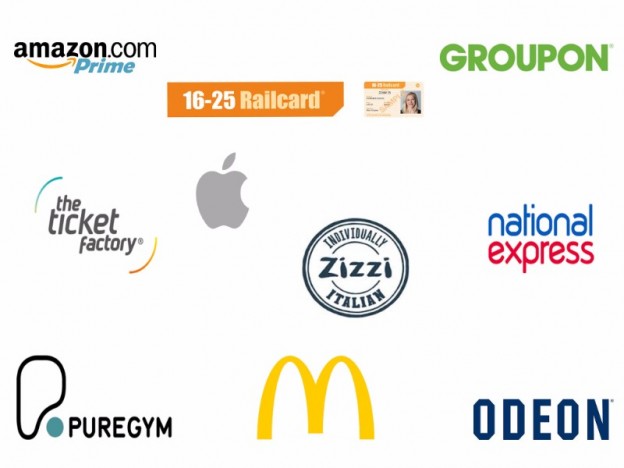 Balancing finances is one of the biggest challenges facing students, and that's where we want to help. Every month we will highlight our favourite student discounts so you never have to pay full price again.
Amazon Prime – Amazon Student membership gives you One-Day Delivery on millions of eligible items for six months, unlimited streaming of more than 15,000 Movies and TV Shows with Prime Video, access to over a million songs and hundreds of hand-built playlists, with Prime Music. Plus, after the six-month trial, you'll only need to pay £39/year for Prime membership (50% off).
Apple – Apple offers students special education pricing for Mac and iPad. You can save up to 10% on Mac and 5% on iPad.
Groupon – Enjoy a 10% student discount when you purchase a deal on Groupon.
McDonalds – Get a free Cheeseburger, Mayo Chicken or McFlurry Original with the purchase of an Extra Value Meal or Wrap Meal.
National Express – 26% discount on travel across the UK. The coaches serve all major towns and cities, as well as many of the main airports, direct to the terminal door.
Odeon – Receive an additional 25% off student ticket prices. Valid Monday to Thursday.
Pure Gym – Students can get up to 20% off gym memberships. Most classes are free and they're open 24/7 with no contract and the option to freeze your membership if necessary.
Ticket Factory –  you'll only pay a £1 fulfilment fee on the order which reduces the fees by more than 50%.
Zizzi – 30% off your total food bill every Monday & Tuesday, and 25% off your total food bill Wednesdays, Thursdays & Sundays. Offer available to 31st July 2017.
16-25 Railcard – if you're aged 16 to 25, you can enjoy 1/3 off rail fares when you go by train. The Railcard costs £30 for the year and with your NUS card, you can save 12% off this cost.
To find out more about registering for an NUS card with Online Business School, click here. Don't forget that the NUS card comes with a free ISIC card, so our international students can still benefit from thousands of discounts.
It's that time of year again. You've graduated and now you're job hunting – but so is everyone else. How do you set yourself apart?
A strong CV is your best chance to make a good first impression, so you've got to get it right. Here's how.
Presentation and layout
We live in a world where presentation is everything. Make your CV stand out by creating a professional-looking document. Ensure it is easy on the eye by using the correct font including size with sufficient white space to break up the text. Bullet points can help to divide the layout of your CV and enhance its readability.
Keep it concise
Keep your CV to the recommended two pages. The aim of the CV is to get an interview, not to tell your life story. Employers spend, on average, just 8 seconds looking at any one CV. To keep their interest, you must be clear and concise.
Tailor it to the role
Create a unique CV for every job you apply for. It is a huge mistake to send the same generic CV for every job application. You must tailor your CV to each role you apply for. Take the time to research the company and use the job specification to work out exactly what skills you should point out to them in your CV.
Proofread
Errors on a CV demonstrate a lack of professionalism and will most likely lead to your application being rejected. Ensure attention to detail; use a spellchecker and ask someone else to double-check what you've written.
Include key information
Personal details, including name, address, phone number, email address and any professional social media presence should be clear. It is not necessary to include a date of birth or a photo.
Include a personal statement
The personal statement sits at the top of your CV and is the first section the employer will come across. Give a brief overview of the qualities you have to offer and reference your skills and experience ensuring they are tailored to the position. Keep it between 30-60 words and no more than 5 lines long.
Avoid CV clichés
Buzzwords make your CV meaningless – employers see the same words used over and over again. Swap them for plain, factual statements to show you're right for the job.
Quantify your achievements
This is one of the most effective ways to attract an employer's attention. Use metrics or results for at least 40% of the bullet points on your CV. Employers love to see numbers – they add credibility to your accomplishments.
Don't leave gaps
You need to account for recent gaps in employment. Employers will be suspicious if you conceal a gap. Instead show how you used the time constructively. Mention volunteering, training courses or creating your own project.
Keep it up-to-date
It's crucial to review your CV on a regular basis whether you're looking for a job or not. Update your CV with new skills and experience as often as you can, so you don't later forget something that could be important.
Learn how to eliminate mistakes from your CV in our blog: 14 CV mistakes to avoid.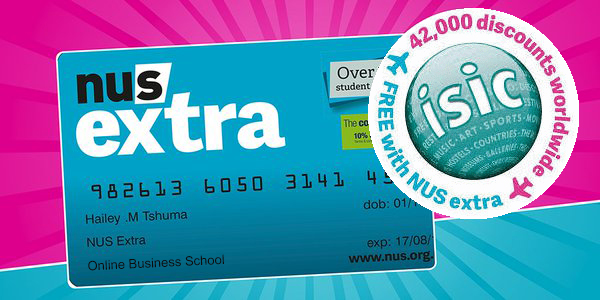 We are pleased to announce that we are now an NUS (National Union of Students) affiliated organisation. We are always looking for ways to help our students and are therefore delighted that our students are now eligible to purchase an NUS Extra Card.
200 discounts
NUS extra is the number 1 student discount card offering over 200 UK student discounts that you can use online and in store. Top brands include:
10% off at the Co-op
10% off ASOS
Up to 40% off at PizzaExpress
25% off Odeon student priced tickets
42,000 International Discounts
The NUS extra card also comes with a free ISIC (International Student Identity Card).  The ISIC card is the only internationally accepted proof of certified student status. It provides over 42,000 international discounts in over 130 countries. You can view all the discounts and offers available here.
Please visit the NUS website to order your card.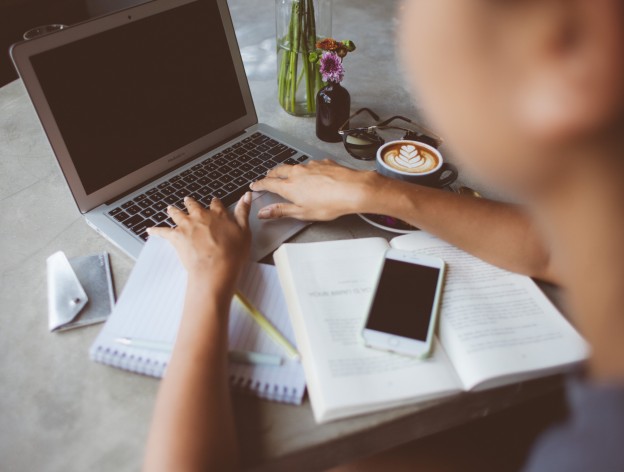 Distance learning courses have become increasingly popular with both companies and individuals. The Higher Education Academy reported that employers favoured distance learning as a way of delivering career-related study.
Investing in staff training encourages distance learning courses is not only beneficial for employee development, it also delivers real, lasting benefits to a business. It can however cost a lot of money and time – luxuries many businesses cannot afford.
Let's explore the benefits of distance learning and how this can offer a valuable solution to both employers and employees.
Enhanced level of flexibility
Time is an asset many businesses don't have enough of and taking staff away from the office can be a struggle. Employers are hesitant, or sometimes reluctant, to allow their employees a few hours out of the office to attend training sessions. The distance learning model circumvents the need to attend classes at a set time every week; employees can fit learning around existing professional responsibilities and gain a new qualification.
Affordability factor
One barrier for employee training is often the financial cost; small business budgets mean that staff training is often the first thing to be cut. A very important advantage to distance learning is its cost-effectiveness; distance learning courses provide the same level of higher level learning opportunities as with larger companies, but at a fraction of the cost and with no travel costs or time.
Upskill your employees
Your employees are arguably your organisation's most valuable asset. Training can improve business performance and profit by ensuring your staff are up-to-date with the latest trends and developments in the business landscape. Distance learning programmes offer your employees the chance to develop their skills and knowledge, which gives them the tools to do their jobs to the best of their ability and therefore increases their contribution to the business.
Retain talented employees
Want your staff to stay? Make training a priority. Investing in staff training not only encourages employee engagement and motivation but it also creates a sense of loyalty to the organisation. Showing that you are willing to invest in your employees makes them feel valued – happy, focused workers tend to stay with their employers.
In-Company Training with Online Business School
Online Business School has developed in-company training courses which are mapped against OFQUAL RQF credits and provide access to top up university programmes. Companies can purchase access to the materials for their staff and the materials can be used as standalone CPD resources and can of course be supported by live training or mentoring. Read more here.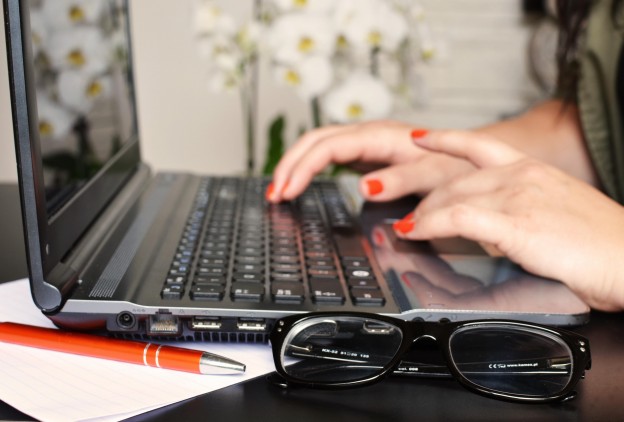 Online study can be daunting, especially since in many cases it is the student's first experience with distance learning. With this in mind, we have put together some useful tips to help you get the most out of online learning.
Set aside time to study
Online learning students must take a more active role in learning than traditional students. As online learners have the flexibility to study when suits, it is a good idea to set aside a time frame for studying every week. Sticking to this schedule will make it easier to organise your studying and help you to become more disciplined.
Create a study space
Where you study is just as important as what you study. Numerous studies have found that the place in which you study affects how you'll remember that information. It can be helpful to have a space set aside to help you concentrate on your work – it must be comfortable, peaceful and full of natural light. If you can't find an ideal space in your home, escape to the local library or an internet café.
Find other students
It is a common misconception that distance learners study in isolation. The advancements in technology (forums, social networks etc.) have made it easier than ever for online learners to get in touch with other students on the same course. Connect with other students on your online course and exchange study ideas – collaboration often leads to great results.
Focus on the end goal
When you're struggling to motivate yourself, remind yourself why you chose to work towards this qualification. Is it for a new job, a different career or a promotion? Write down these reasons or make a vision board with images that represent how you feel about your aspirations. Look at them every day to remind yourself that each day is a day closer to your end goal.
Reward your achievements
Rewarding yourself is a great way to stay motivated and keep your spirits high. Buy yourself a little treat when you reach milestones such as submitting work or passing an assignment – they will give you a sense of achievement and progress.
This entry was posted in
News
on
.
Post navigation