Blog
The Importance of Assessments during an Online Course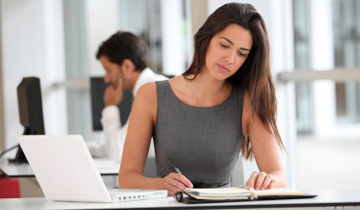 After each and every module completed during an Online Business School course students have to complete an assessment. The assessment contains 30 multiple choice questions, with an hour given to complete the test. The questions are answered in blocks of five so you are given time to review go over your answers and edit any you feel need changing before you submit the block of 5. Once the hour is up the test will then automatically time out.
Once you have completed this test, you will see your results on the screen immediately. You will receive a Certificate of Completion if you have passed the assessment. If you didn't pass, you will then receive a notification of a 'refer' where instructions will be there on how you can retake the test, which will cost £30. Don't forget you can complete these modules in your own time, so take as long as you need, to make sure you pass the assessment first time!
Once you have successfully completed the online modules you will then move onto the final eight written assignments. These assignments will test your knowledge will give you the opportunity to show what you have learnt in the modules. The successful competition of the eight assignments will then allow you to receive your ATHE Diploma.
You will then be eligible to apply for progression onto a Top up course through a recognised UK university on campus or by distance learning.
The idea of having the assessments is to help students show understanding of the module and to demonstrate to Online Business School what they have learnt over the past module. This is also helpful to refresh the memory of students. Sometimes you will forget what you have learnt throughout the module and then you will take nothing away from your study time.
Assessments also allow tutors and markers to keep track of how students are getting on with their course. If the Online Business School academic team can see a student has failed a module they can see what area a student is weak in and try to address this by guiding a student through their areas of weakness and ultimately improving their understanding.
When studying with Online Business School we like to make sure our students get value for money and a thorough understanding of what they are learning. We strive to give students the best learning experience and guide them all the way through their courses with state of the art assessments and guidance which will ultimately give them their best results and qualifications.