Blog
Is online learning one step ahead of traditional University study?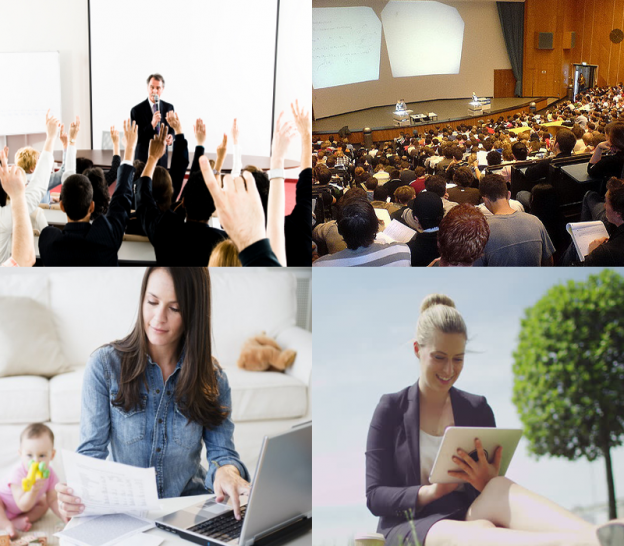 With the advances in technology accessing top quality University education has never been so easy. It is also seen as a much more cost effective way of studying for your degree in this day and age.
Below we are discussing the positives of both Online Learning and Traditional Learning;
Online Learning
Cost – Obviously the cost of studying online is far less than attending a bricks and mortar University in the traditional way. You can achieve your degree or MBA for around £5000 online whereas you will pay 4 times this amount at a University. There is still a stigma attached that online learning is not as beneficial and recognised as a traditional University degree however.
Convenience – One of the main factors of online learning is the flexibility.  You can learn at your own pace and in your own time. Many people continue to work when they are studying on time so they are still earning money as they work towards their degree.
Skills – Online Learning allows you to develop new skills that you might not obtain with classroom study. You will learn how to use more programmes and features on your devices and you will become a lot more "tech savvy". You will also learn to organise yourself better and learn how to have self-discipline and motivation which are great skills to obtain.
Variation – The choice of courses that are available online now are endless. This allows you to pick a subject that you are passionate about and allows you to progress in your specific preferred area which can improve your passion and work ethic.
No after costs – Most Online Courses will be purchased before you begin or on a monthly plan, which eases the cost burden. This avoids any debts after University that you end up paying back for years after. A large majority of graduates are still paying off University debts for over 15 years after they complete their degree.
Traditional University
Experience – To have that first-hand experience of University is mainly what will draw students to go off to University in the first place. Living away from home and having your own freedom is one of the main parts of the University experience.  For many students gaining experience will be a huge factor for choosing University life. It will allow them to learn a lot of vital life skills aswell as their education.
Network – Networking is hugely important with getting a job and moving forward within your career after University. You can meet many other people at University who will end up being in your working circle.  When you are interacting with like-minded people on a day to day basis can create opportunities and give you invaluable skills that you can take into your work field
Recognition – The recognition of the degree is important to both students and employers. Students do not want to spend a significant amount of time completing a degree to not get a job at the end of it because it is not recognised. Employers will look at where a candidate has obtained their degree from and this may play a factor in whether they secure a job.
As we can see there are many positives regarding both kinds of learning. Online learning has seen a huge growth over the past few years as Online education has now become more accessible and it is also now more widely accepted by both academics and corporations, as a legitimate way to gain your degree. Online Business School offer a pathway to a degree which allows students to obtain a full UK degree by completing the first part online and then topping up with UK Universities. This gives students the quality of a UK education and UK qualification but at a fraction of the cost and studied online and flexibly.