Blog
How virtual-learning bridges the gap between high school and college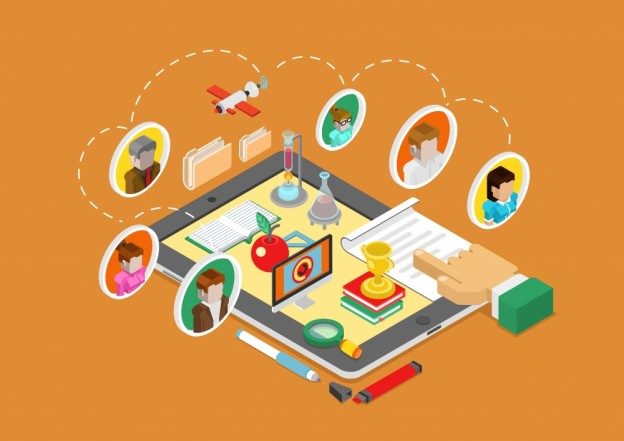 Traditional education promises a classroom full of students which is an element that is not present in online learning. However, technology has made it possible to simulate this environment and therefore bridge the gap between school and college. By allowing a connection to a wider community in order to share resources and support one another, virtual-learning offers an interactive approach irrespective of geographical location. Through providing access to global instructors and exposure to countless invaluable resources in order to facilitate learning, students are able to learn through their peers whilst developing a more in-depth and critical understanding.
Collaboration and facilitated-learning
Although students have the presence of their peers inside a classroom, it can still be difficult to collaborate and share ideas. Classes do not always allow for group work or have enough time to participate in discussion which can sometimes hinder learning, due a lack of dialogue to further explore ideas. Whilst students are able to converse with each other outside of class, this dialogue often needs to take place in real-time in order to allow time for questions and clarification of their thought process. It is through this discussion of concepts and questions that students can work together to explore the things that they are learning whilst sparking new ideas. It is often during this back-and-forth process that students are able to fully grasp topics and it is therefore crucial for discussions to take place in a classroom setting.
A lack of this can sometimes cause traditional education to become a more solitary experience, therefore virtual-learning makes it possible to bridge this gap by creating a space for this conversation to take place. Students are able to converse in real-time as they learn through an online chat platform or social media. This makes it possible for them to share ideas and thoughts which will not only facilitate their learning but will support a deeper understanding of topics. Technology offers many opportunities for students to collaborate without having to interrupt a teacher in a classroom or become concerned about a time constraint. This is something that can also allow students to connect with their peers and mentor one another, which is integral to acquiring success. Classroom settings can often prevent this and virtual-learning is therefore crucial.
Shifting the focus from teacher to student
Virtual-learning shifts the emphasis of learning onto the student rather than instructor, therefore allowing students to carry out their own research and use their learning as a tool to be more independent. By allowing students to have the capacity to facilitate and be accountable for their own learning, a virtual education cultivates a well-balanced student and provides them with the right skills to go on to succeed within the workplace. Students are able to develop technical skills and navigate software to utilise learning through quickly becoming familiar with programs and content in order to understand and consume information. This will not only ensure efficiency and productivity, but will also allow for them to be engaged and go on to implement this within the workplace.
Students learn to seek out help or resources when experiencing difficulties, which will not only help to make them more well-informed but shifts the responsibility from the teacher to the student. By allowing the student to ask questions and clarify their own understanding, it provides them with the ability to broaden their own comprehension of subjects.
Education is individual to every student and therefore should cater to their needs. With the evolution of technology, it is now possible for students to distinguish their learning style and inevitably go on to pursue these, whether in the form of blended learning or through a course that is solely based online. By offering students a choice, it not only allows them to alter courses in order to suit their own needs but ensures that they are gaining the most out of their education whilst still being a cost-effective approach.
The internet presents countless opportunities for students to collaborate and gain access to a wealth of information, therefore it is crucial for institutions to recognise and use this to arm them with limitless possibilities.