Blog
Do Online Learners Miss Out on the Campus Student Experience?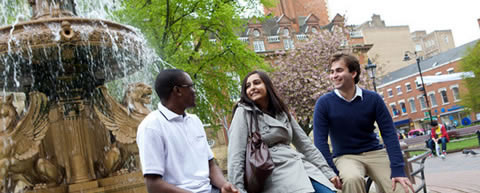 Here it is again! The debate on whether studying online is better than studying on campus…
Early in the Year, universities Minister David Willetts stated that academic communities should recognise "online learning has the potential to be one of the UK's biggest export opportunities". Recent studies have produced figures that certainly support this statement.
While some may acknowledge this statement, others have raised concerns over how online learning could ever meet the same standard of teaching and overall 'student experience' as observed when a student physically attends university or college lectures.
So, as it stands, the current model of online learning comes with a stigma attached that it may never be as good as 'going to' university. Maybe we're looking at this from the wrong angle? Maybe online learning was never meant to be a substitute for studying at university, but merely there to complement it?
At the Online Business School we believe learning should be available to everyone, everywhere, no matter what previous qualifications they do or don't have. OBS is not a substitute for someone who has the time and money to go to university – but a viable alternative offering flexibility and value for money.
The future of learning will surely be online as people become more time precious and require a more flexible approach to fit into their busy lifestyle. As the mood changes surely tutors and teachers will recognise the shift and adapt their teaching approach accordingly? The more savvy ones will understand what an opportunity this new exciting model presents and focus on how they can benefit from offering online tutoring in the form of webinars and webcasts.
OBS has embraced the changes and offers online tutoring and support for students to access at any time.
So, an alternative to university campus life at the moment? Maybe, but in the future, for sure this could be the way most people continue their education.
What are your thoughts? We'd love to hear from you.
The full article can be found at: http://www.huffingtonpost.co.uk/dr-philip-hallam/online-education_b_3012930.html