Testimonial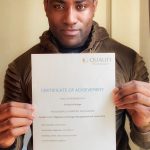 Graduate testimonials: Frederic Belinga
The quality of the course was in par with the expectancy of a Postgraduate Master Level 7 and was indeed very challenging.
Frederic has recently completed our Level 7 Business Strategic Management course. Read below his Online Business School experience.
Why did you choose to study with Online Business School?
I chose to study with OBS because online education has become a paramount option for full time managerial workers like myself.  Aside from studying from the comfort of my home with absolute freedom and flexibility, the school would enable me to obtain an accredited  postgraduate degree at a fraction of the UK higher education cost ( which in my opinion is a solid bargain, considering my intent to pursue other postgraduate qualifications later on). Upon registration, I knew that the course would mandate a lot of self-discipline, precise time management,  self-studying, and  personal organization; but I was up for the challenge and determined to obtain a quality  Level 7 diploma in strategic management and leadership.
How would you describe your experience of studying with Online Business School?
Studying with OBS has been a stellar and rewarding experience enhanced by the school omnipresent student assistance ( Thank you Miss Laura et al.)  as well as a consistent support from a truly empathetic and responsive staff who have advised, directed & guided me every step of the way, even in my graduation stage ( Thank you Mr Yusuf).  You can trust these professionals to be there for you, or to at least give their best to help you. Moreover,  I really took advantage of the freedom to work and study at my own convenience, which helped me dive into chapters I didn't quite understand at first hand. Studying at my own pace free of any pressure and stress  has truly facilitated my studying  experience and has helped develop as an independent and confident thinker. Overall the experience was immersive, the studying platform was easily accessible via an app or from my laptop,  thus it was practical,  easy to use with solid features enabling me to navigate effectively through the course materials. 
What did you like the most about the course with Online Business School?
The remote nature of the course has allowed me to really dive into the course material from anywhere, at any time via a very informative and easy studying platform.  The quality of the course was in par with the expectancy of a postgraduate master level 7 and was indeed very challenging.  Yes!   Nothing was handed to me, everything had to be earned, in fact the school tutors were very responsive and able to underline areas where I needed some improvements via personalized feedbacks. This enabled me to remedy and correct my mistakes, they also gave consistent appraisals where needed or when I successfully completed an assignment. These feedbacks keep me motivated  and enabled me to make better informed decisions and improved my analytical and problem-solving skills as a student (Thank you Mr Alan)
Do you have any advice for current or prospective students?
My advice for current students is to stay driven, to remain consistent and disciplined in their studying efforts. Push through, some evening you might not have a big boost in energy,  regardless of your lethargy invest that one hour that will make the difference.  I've found that smaller compound efforts always amount to significant greater results over time. Avoid procrastination, distraction and instant gratification  because those factors will mitigate your ability to be successful in the course, at least as far level 7 is concerned.  And for prospective students who are  looking to enrol with OBS, you can count on a very responsive student support and staff ( who do their deeds via email, telephone or what's app) and who will be there to bring solutions to your individual inquiries; you can count on a group of tutors who will help you navigate  through your coursework and assignments.  Most importantly, studying online requires one's greater sense of accountability, therefore you must be responsible for the  choices and decisions you take while you study as they will positively or negatively impact your results as a student.  Since there is no one to push you other than yourself,  you must assert your own personal leadership and  have the responsibility to build a studying schedule that you can stick to, as well as personal studying obligations that you can fulfil every week.  Perhaps spend time at the library away from distractions and instant gratifications to put some work in.  Prioritize your studying time over anything non-essential, as it  will  help you reap significant return in the long term.  Do your part and OBS will do its part.  Meet at the middle and reap the rewards. I encourage anyone who is looking to continue his/her managerial education online to consider registering with Online Business School as the school delivers and will provide you with easily transferable skills, as well as leadership or managerial knowledge, and  level 7 expertise to succeed in further postgraduate studies or in your respective industries.  They have done it for me,  I'm sure they will render the same service to you.
 5. What are your plans now?
My plan is to push forward,  top-up my remaining 60 credits and have a full MBA under my belt. From there I'm looking to pursue other postgraduate degrees  and reach my self-actualization.