Testimonial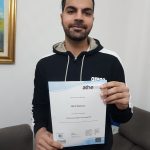 Graduate Testimonial: Sherif
I will be starting my top up year at the University of Hertfordshire this September 2021.
Sherif has recently completed the Level 5 IT and Computing course. Read below Sherif's experience with Online Business School.
Why did you choose to study with Online Business School?
I chose to study with online business School because at the time I found them the most trusted school thanks to the feedback of the previous students.
How would you describe your experience of studying with Online Business School?
Well, like in any other school, you can't expect to come here and do nothing, so it wasn't easy to be honest, you have to earn your certificate. But the experience was good, all the people inside of it were really kind and ready to help you anytime.
What did you like the most about the course with Online Business School? 
What I liked the most about this course is that it gave me the chance to study with the material given by the school at any time I wanted to. You can access your material whenever you want and check the progress of your study thanks to the progress bar in your homepage.
Do you have any advice for current or prospective students? 
An advice for current students could be to just keep going, you already know at some point you will finish and earn your certificate. As for the new students, I can say that the certificate is real and they will send it home and through mail, so definitely you can trust this school. Also if you need any help, you will have an amazing support from the student support manager Laura, who has always been very kind to me through the whole year and even helped me with the university reference for the top up year, so a special thanks to her!
What are your plans now?
Well, they just accepted me for the top up year at the university of Hertfordshire.  I will be starting this September 2021. I am looking forward to get my degree and finish my studies!
Read more testimonials here.