Testimonial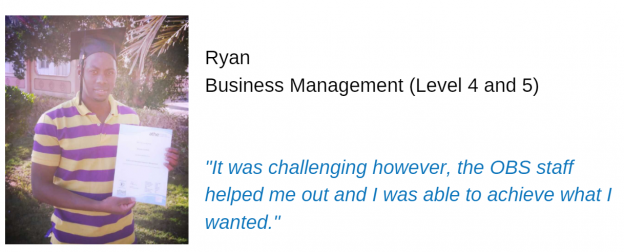 Ryan has recently finished the Level 4&5 Business Management course and he would like to top up his studies. Read below Ryan's experience with Online Business School.
Why did you choose to study with Online Business School?
Specifically to develop my career and to reduce on the costs regarding fees.
How would you describe your experience of studying with Online Business School?
It was challenging however, the OBS staff helped me out and I was able to achieve what I wanted.
What did you like the most about the course with Online Business School? 
I am a full time worker, therefore Online Business School helped me study my course at my own pace while working.
Do you have any advice for current or prospective students? 
What I would like to tell students is that they have to stay focused and determined, this can be achieved by setting every day tasks and goals. It should be in you that everyday you have to do this range of work;  then by keeping this in mind, it can make it easy to achieve the course very fast and simple.
What are your plans now?
I am planning on going for top up at a UK university.
Read more testimonials here.