Testimonial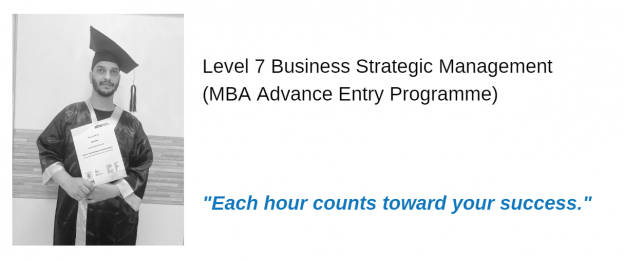 Haasin has happily graduated from Level 7 Business Strategic Management course and he would like to share his experience with other students.
Why did you choose to study with Online Business School? 
Online Business School credible online institute, it has a variety of courses to offer with good progression path the fees are reasonable and the team is helpful.
How would you describe your experience of studying with Online Business School?
My experience with Online Business School was smooth everything went well, they have provided me good advice in courses selection.
What did you like the most about the course with Online Business School?
The flexibility and finishing the course at your own pace.
Do you have any advice for current or prospective students?
My advice would try to put in hours for the study every day if you have opted-in for it I know there are days when we get lazy but keep on going each hour counts toward your success.
What are your plans now?
My plan is to top up for an MBA.
Read more testimonials here.